Anyway, what do you do in winter??
I think "eating Japanese mandarin Oranges in kotatsu"  is the most representative activity of Japan's winter season.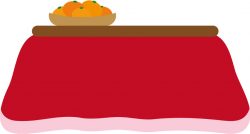 Today I want to introduce how I spend my winter days– especially when I'm on vacation! Ahaha.
In January, my instincts demand me to find a snowy mountain to go skiing on, but I have to do a lot of things for tests still in the middle of January. After finishing all of the tests, I'll book my hotel and night bus on that day and get ready to go skiing.
My favorite place is Nozawa Onsen, which is in the north of Nagano Prefecture. When I was a high school student I went there with my family and I was enamored with the beautiful scenery. Also, the place is awesome for skiing because they have powder snow in winter season, but that is not the only reason.